Children and incontinence
Children, who wet their pants but otherwise expected to be dry is a well known problem. It still seems, however, to be a subject filled with embarrassment and taboo – and it is something, that the child as well as the parent is anxious about. For all in the world the child does not want to stand out from the crowd and certainly not due to wet pants. The parents may worry about whether the child is lazy, has psychological issues, physical problems or something completely different. In any case an uncontrollable bladder can impair your child's quality of life.
The way forward concerning
children and incontinence
is to establish exactly what goes wrong for your child, and then help, support and follow the advice and guidelines that exists about children and incontinence. In any circumstance it is important to get in touch with your General Practitioner, who will examine your child and help you deal with your child's incontinence. DRY & COOL's focus is on "daytime wetting"; children who have problems staying dry during the day.
How many children have problems staying dry during the day?
Approx. 10% of children at the age of 6 or 7 have problems staying dry during the daytime. Most children fortunately grow out of it and as a parent you can do a lot of things to aid this and to minimise the problem for your child. But first of all it is essential to know more about the reasons for not being able to stay dry.
Reasons why your child is having problems staying dry during the day
Previous opinion was that children having problems staying dry during the day, had psychological problems. It is however, the reason for the minority of cases. The reason for children's incontinence in the daytime is usually due to: - constipation - an overactive bladder or - urine infection Some children also suffer from so called laughter incontinence, where they literally laugh so much, that they wet their pants. These children can get to grips with the problem through training of the pelvic floor. Finally an accident can also just happen when your child is preoccupied in an exiting activity.
What can be done to enhance your child's bladder control?
Fortunately there is a lot of help available, which can help your child have control over the bladder: If the problem is constipation it can be corrected by a high fiber diet, increased fluid intake and maybe replacing some of the milky drinks with water. In general it is important that your child gets enough liquid, as the bladder needs something to work with. It is also a good idea to let your son sit down, when he urinates, as this position makes it is easier to empty the bladder. If it is difficult for your child to empty the bladder at the initial visit to the toilet, it may be an idea to have a second go straight away, after a minute or two. The child also needs peace and quit when on the toilet and shouldn't be rushed.
If you give your child a clock with an alarm, it will also help him/her get into a regular routine. You can set the alarm to vibrate every two or three hours, so the child gets a clear reminder. When the problem is incontinence in the daytime, the solution is not antidiuretic hormone treatment, which otherwise may be prescribed to help bedwetting children. There are several clinics which help children getting rid of their incontinence.
An incontinence treatment will typically consist of the following phases: - during a period of three consecutive days you will have to fill in a liquid and urination form, so the amount your child drinks and urinates can be measured. Thereby, it can be determined if your child's bladder can accommodate what it is supposed to on the basis of the child's age. - the bladder's level of function will be tested - the bladder will be scanned to see if it empties properly - the urine is examined to establish sugar and bacteria levels - medical treatment can eventually be used If your child also suffers from fecal incontinence (stool), this needs treating prior to urine incontinence.
Use cool looking incontinence underpants while your child has problems staying dry during the daytime
While you work on getting rid of your child's problem, you can minimize his/her's concerns with the recurrent accidents by using
cool looking incontinence underpants
. Your child can then focus on having fun rather than worrying about hiding the problem.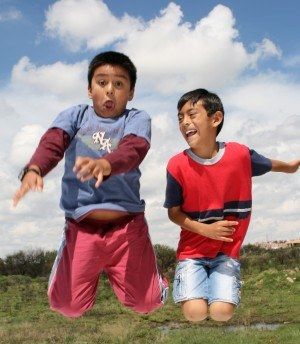 CHILDREN AND INCONTINENCE - DEFINITION:
Definition of childrens urine incontinence:
- leak of at least 1 ml urine,
- at least once a week,
- for a child older than 5 years

CHILDREN AND INCONTINENCE - FACTS:
A child at the age of 6 has a bladder size at 150-200 ml
It is normal for a child to go to the toilet every third to fourth hour
A child should drink about 1 - 1 1/2 liter liquid a day
CHILDREN AND INCONTINENCE - HELPFUL LINKS:
See our incontinence pants for boys here
See our incontinence briefs for girls here