Vibrating watches for children
Cool looking vibrating watches
When starting school, a child may easily forget to visit the toilet when they are completely preoccupied with learning the rules at school, playing in the schoolyard or just having fun. Unfortunately that can lead to small accidents and wet pants, which is something no schoolchild wants. A smart digital wristwatch that looks much like a pedometer can help the child to remember to visit the toilet. The vibration watch can be set to vibrate 8 times a day. The vibration is stopped with the single push of a button.
The setup of the vibrating watch is done on the actual watch
The vibration watch charges in one hour using a small cord that plugs into a PC's USB port. Standby time is approximately 5 days depending un usage.
The vibration watch's size
The watch is easy to put on and take off and fits both children and adults. When the watch strap is closed and is smallest, the inner circumference is 13,2 cm.
More about the vibration watch
The vibration watch is CE certified, which means that it meets EU standards and thus protects the consumer from products that can be dangerous or harmful. The watch is NOT suitable for getting into the water.
See our cool looking vibrating watches here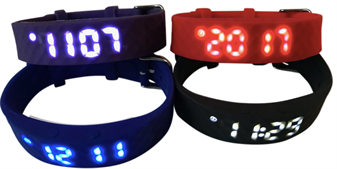 Quick guide to the vibrating watch
1)
Take the watch out of the silicone strap. Connect the watch with the small cord and plug the other end of the cord into a USB port in a power-on computer. Leave it to sit for an hour to upload. Standby time is approx. 5 days after a full charge depending on usage.
2)
An English quick guide is included and a video on the product pages shows how the clock is set etc.
3)
There are two buttons on the watch itself. Make sure that the buttons of the watch are inserted into the silicone strap in the side where two buttons are marked.
4)
To stop the alarm press button 1. Pressing button 1 also shows the clock. A small luminous dot next to the time indicates that a vibration alarm has been set.
See also our cool looking incontinence pants here.